Microsoft Word has always had its adherents, but find one who likes it and you're sure find some who don't. Unless you need all the features Microsoft Word offers, many of which are overly complicated, it will be hard to justify the high price.
Do not pay for something you will not use – check out one of these five alternatives to Microsoft Word instead. I have personally tried all of these apps and will tell you the pros and cons of each. I still use some of them, and I hope you'll find something useful as well.
My first must-have for all writers is the text editor Strike. Initially, this editing software did not arouse any emotions in me. But my friend, who has been using it for half a year, insisted on giving Strike a chance. Granted, it's not the best name.
But interest won out, and today I'll tell you what makes Strike a truly unique text editor.
quick text editing
When you're working with a lot of text, like writing a thesis or dissertation, finding the right part of the text gets tricky. In Strike you can automatically create outlines and add #tags for quick navigation or jump around your document via headings in the upper left corner of the document. Quick error correction with spell check and auto-replacement, will save you time.
If you need help writing your thesis or dissertation, up to 10 people can edit your document in real time. Importantly, there is a password function for the parts of the text you want to leave untouched. Or ask your mentors to leave you notes in Strike without editing your text – this option is also available.  Strike automatically tracks changes, so there's no chance you'll loose anything. 
MathJax feature
The built-in MathJax feature lets you generate exact mathematical formulas right in your text editor.
customize charts and professional-looking tables
Create and edit charts and tables in two clicks, without fussy numbers or complicated math.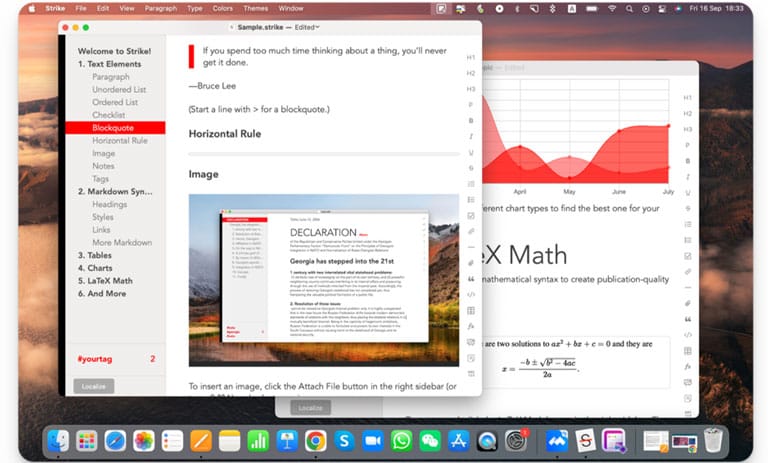 Strike's functionality is not limited to that, you can test it absolutely free in Setapp. The bottom line is that anyone who writes great texts should have at their disposal a great text editor.
Messages from friends and family, work, social media, and seemingly the entire Internet are constantly fighting for our attention and distracting us from important tasks. Do not worry, in the digital world, many have trouble focusing.
So if, like me, you need to keep your mind focused during the work process, then the user-friendly text editor Focused will be your lifesaver. 
focused mode
One of the most important features of Focused is the focus timer. It blocks all messages, pop-ups and ads for the time when you are focused on your work. In case you are concerned about missing important messages, highlight your tasks and enable important notifications.
zen-mode
The Zen-mode makes writing even more enjoyable, since it plays relaxing music while you write.
paragraph and sentence focus
The paragraph and sentence focus features are indispensable when you need to focus on a specific sentence. Your focus will be maintained since Focused automatically darkens the rest of the text.
statistics check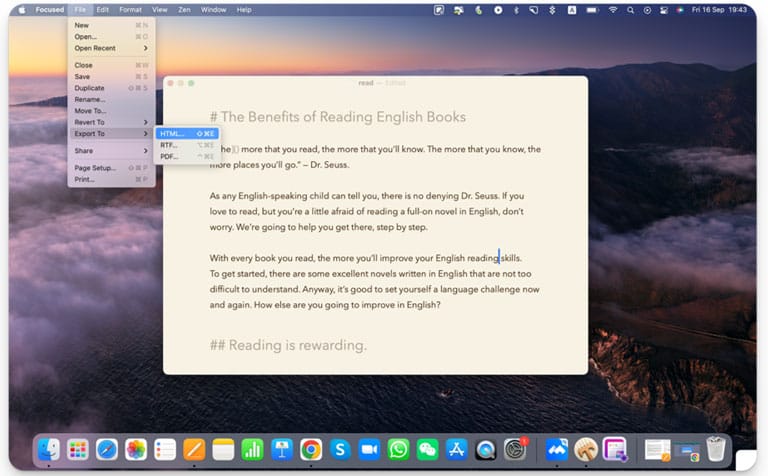 When you don't need extra features and instead want to stay productive, Focused is a great writing app option. Plus, it works on the iPad and iPhone, so we can keep working wherever we are. 
Is there ever a time when an endless stream of thoughts in your head keeps you from moving forward and causes chaos and anxiety?
Well, I often use mindfulness journal to get rid of negative emotions. After all, the written expression of thoughts allows you to realize and accept the presence of the problem, not to run away from it and not to lie to yourself. 
Researches have proven that keeping a journal is good therapy. My goal was to find an easy-to-use digital mindfulness journal with a variety of features. Diarly met all of my needs.
high security
Diarly has an encryption and password protection feature, which is very important when choosing digital dairy, our thoughts should remain only to us.
calendar, lists, and #hashtag search
We don't throw digital journal away when we run out of pages, it's with us forever. Diarly has a customized lists option, calendar date navigation, and #hashtags search. That way we can track how our thoughts and goals have changed over time.
syncing between icloud devices
You can sync Diarly with all your Apple devices. The main thing is not to forget to put a password protection.
custom view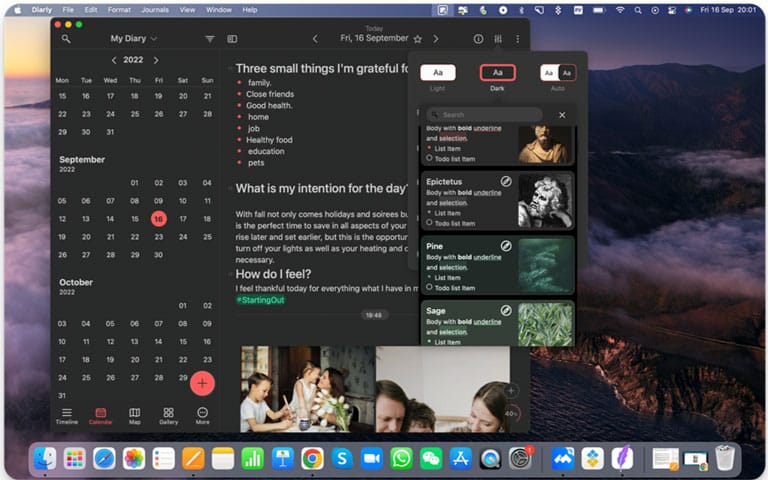 Open your journal and just start writing! If you don't have a digital journal yet, you can test out Diarly for free. And if you've been keeping a mindfulness journal for a long time, share your apps and experiences down in the comments.
I maintain two blogs, my personal one and the one you're currently reading. And the app I want to tell you about was my main discovery when I first started blogging.
Now, TechYOY blog has a team of writers and editors, but its main task will always be introducing you to gadget, accessories and services. You will also need a good HTML editor if you wish to blog, exactly the kind of app I am going to introduce you to.  
A simple desktop blog editor – MarsEdit, will tell you where to begin and what free host to choose. And if you're already used to work with WordPress, then you'll like writing from the desktop even more, because we don't need to be online to create content.   
wide compatibility
 MarsEdit has extensive support for WordPress features, including customizing the publishing format and adding your favorite images. It allso works with any blogs that supports a standard MetaWeblog or AtomPub interface (Micro.blog, Tumblr, TypePad, Movable Type, etc.).
rich and plain text editing
MarsEdit's editor switches easily from Plain to Rich Text, so you can work in whichever format you prefer. And if you use Markdowns privately, MarsEdit can preview and convert it to HTML.
offline freedom
Write when you really want to and post when you get to internet. You don't have to worry about losing your work as MarsEdit has an auto-save feature.
safari extension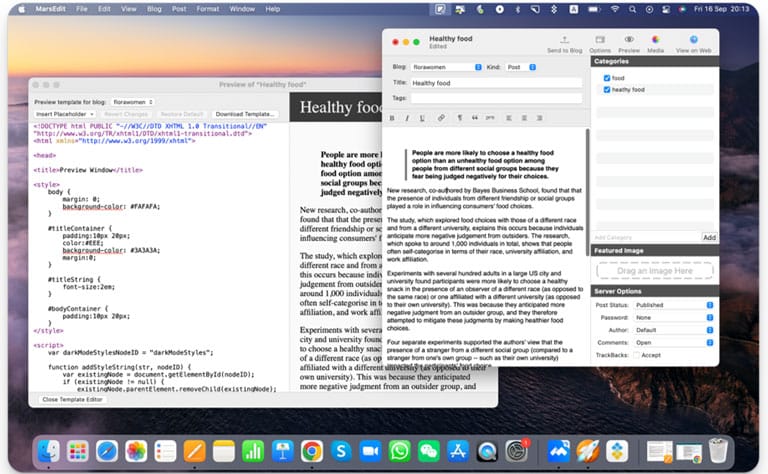 Now do you understand why I keep choosing MarsEdit for my blog? You can waste your time looking for another HTML editors for mac or save your time and test MarsEdit absolutely free right now.
Ever since I switched to a Mac, I've enjoyed Apple's aesthetics; you have to admit that most Windows apps are ugly. When I couldn't get enough of Pages for my content creation, I started looking for something minimalist, but powerful at the same time. 
Now all bloggers, content creators and authors will be very grateful to me because Ulysses is more than a writing tool, it helps us to improve our texts.
grammar and style checker
Ulysses has an advanced grammar and style checker built in, because for a good writer it is not only important to have a meaning, but also to make sure that the text is free from errors, typos and repetitions. Select Check Text in the sidebar to get suggested changes. And in Edit mode, you can comment, annotate, and tag your text.
write without being distracted
When it comes to writing or blogging, it's easy to get distracted working in an online editor like WordPress or Google Docs, but with Ulysses you can work offline. And a large selection of themes where you can customize everything to your preference: font, line height, paragraph spacing, line width, and font size, it helps you enjoy the process. My fav one is the Tomato-mozarella theme.
your writings in one place
Besides blogging, there are many things to do, like go shopping, file tax returns, etc. So in Ulysses I also organize all my personal notes, it is very convenient just by dividing them into folders in the library. I do not need to be afraid that something will be lost, because the application saves everything in iCloud and allows to work from any iOS device.
publish to WordPress or Medium
Ulysses easily integrates with WordPress or Medium, so when you're online you can easily publish your drafts. You can add images, resize them, and make captions before publishing. I always insert images because I want my content to catch the eye.
exporting eBooks and PDFs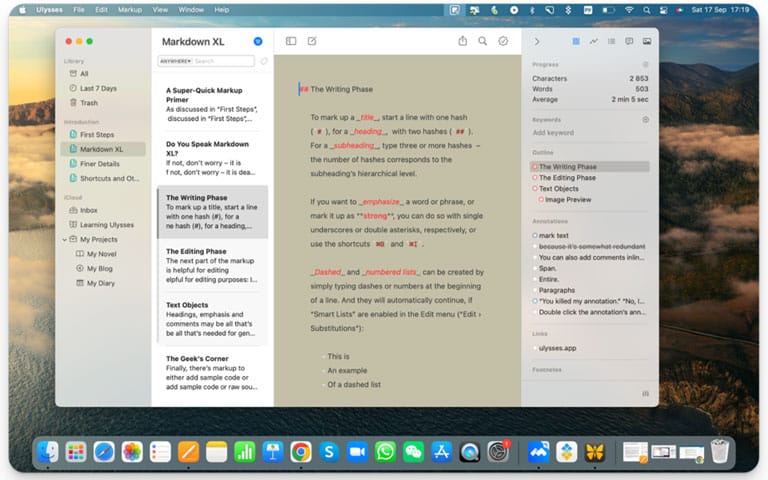 I write a lot, so I need good editing software. And you should think about how much time you spend writing articles or blogging and maybe test Ulysses for free on Setapp.
The Bottom Line
I advise you to think about how much time you spend writing articles or blogging, notes. Microsoft Word has long been surpassed by Ulysses, MarsEdit, Diarly, Focused, and Strike in terms of the number of useful features these programs offer.
Moreover, all the above programs are available for free in Setapp, unlike Microsoft Office, for which we always pay too much. You can try each program and see which one suits you best, or use them all at once. For $9.99 per month, Setapp gives you access to over 200 apps, including Ulysses, MarsEdit, Diarly, Focused, and Strike.