Omegle has been active on the web for quite some time, but it was the COVID-19 lockdown that made the platform so popular. It does not come as a surprise, either. When we are stuck at home with online video calls and work-from-home routines, it makes sense to meet random people via Omegle. And, to be honest, Omegle does a great job when it comes to enabling random meetups as well. In recent months, though, the platform has become quite crowded. There are so many accounts, including spammy ones. Therefore, it is completely understood if you are looking for other sites like Omegle.
Fortunately, meeting random people on the internet is not a newfound concept. It means you can find many websites like Omegle. However, it does not mean that you can choose a random platform and expect to get meaningful people on the other side. On the other hand, you need to choose the best Omegle alternatives from the web. Considering the high number of websites like Omegle, this task can be quite difficult. It is why we decided to help by compiling a list of the 21+ best sites like Omegle to chat with strangers. We have tested all these sites and confirmed that they are working as expected.
Note: Some of the Omegle alternatives on the list belong to different categories. For instance, some websites can help you find virtual dates, whereas others are friend-finding websites. So, if you cannot quite get what you want from the first few options, feel free to check out the others.
Sites Like Omegle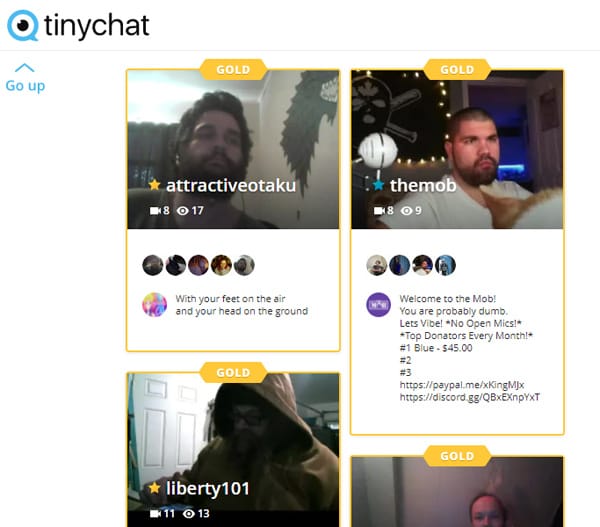 Tinychat is probably the most popular Omegle alternative on the internet right now. Like Omegle, it doesn't require any downloads or registrations. Instead, you can start the video chat as soon as you open the website on your device. In addition to video chat rooms, Tinychat offers support for text-based chats as well. It has a commendable user base as well, making sure that you will find at least a few good connections. The site is offering some additional features as well. For instance, you can gift people and promote rooms on the main page. If you are ready to pay, you can upgrade for additional features as well.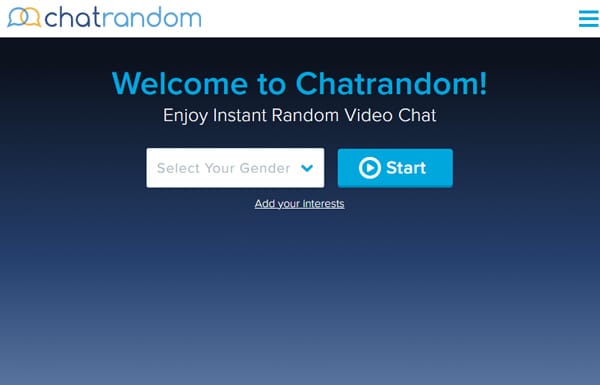 Another popular Omegle alternative, Chatrandom, gets the job done when it comes to finding random users to chat with on the internet. Of course, you have to turn on your webcam for the best experience. Because the app does not involve any downloads or registrations, you can get to the game as soon as possible. When you begin, you have to provide your gender, add your interests, and agree with the terms and conditions. In a second or two, you will be connected to another user. There is also an option to filter the chats based on the gender and location of the user.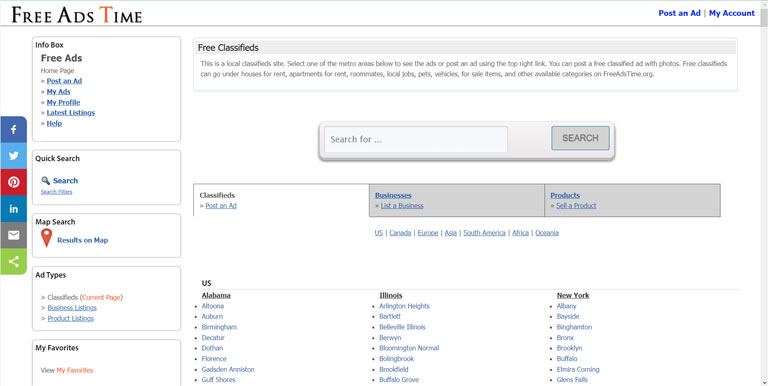 FreeAdsTime is a perfect Omegle alternative site for those who are trying to find locals to chat with and potentially meet. You would notice a local approach through the FreeAdsTime site as it enables you to find and select your city as the first step in your exploring journey. You can start communicating with others through the message box that they have on the listing pages, and you can take the next steps to proceed with a voice or video call through regular means. Check them out right now to see if you can find a great fit to start your conversation!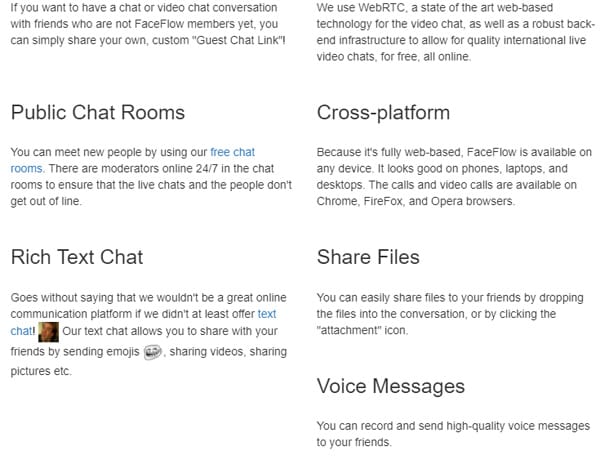 If you do not mind a sign-up process, you should check out what FaceFlow has to offer. It enables free video chat with friends and family. If you do not want to hang out with people you already know, you can always meet and chat with strangers. As you can guess, FaceFlow requires no downloads and stays 100% free when you want it. There are a couple of other features like guest chat links, file sharing, voice messages, in-depth user profiles, and rich text support. In other words, FaceFlow is a better chatting app than Omegle in many respects.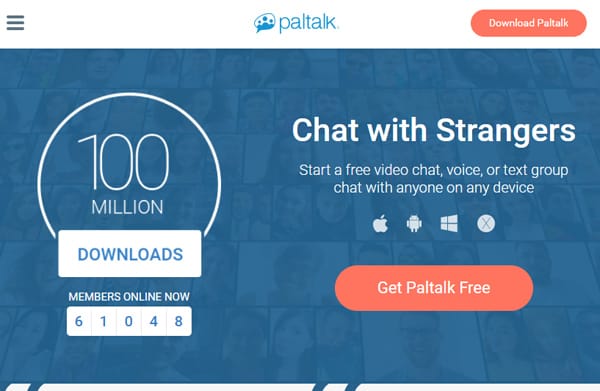 If you need an Omegle alternative that you can download and install, Paltalk is an impressive option in the market. The app is available for macOS, Windows, iOS, and Android. Regardless of the device you use, the user-interaction features on Paltalk are impressive. In addition to one-on-one video chats, you can engage in multi-user video chat rooms as well. Compared to Omegle and most Omegle alternatives, Paltalk has an impressive User Interface. It will help you share text and other content with ease. The best part? You can get all these features on all devices.
If you are looking for an Omegle alternative as popular as Omegle, you should check out what Camfrog has to offer. A minor inconvenience is that you have to download and install the program. On the bright side, it has been downloaded more than 100 million times. Therefore, you do not have to worry about security or privacy. Camfrog also packs a number of features, such as multi-device availability. You can even explore the deaf chatrooms that are optimized for people with disability. Due to these reasons, Camfrog has gotten so much praise in the last few years.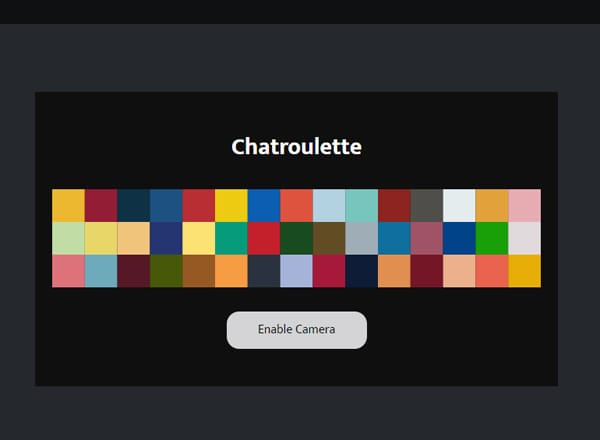 Chatroulette is a simple website like Omegle in that you can start using it in seconds. You can open the site, enable the camera, and start chatting with random people from across the world. Just so you know, there is an effective queue system on the platform. You can increase the time you can spend on the website as more people choose your profile. You can also enable text-based chat. Last but not least, Chatroulette has options for blocking people that you do not find appropriate as well. Altogether, we have to consider the website as a safe place for finding strangers on the web.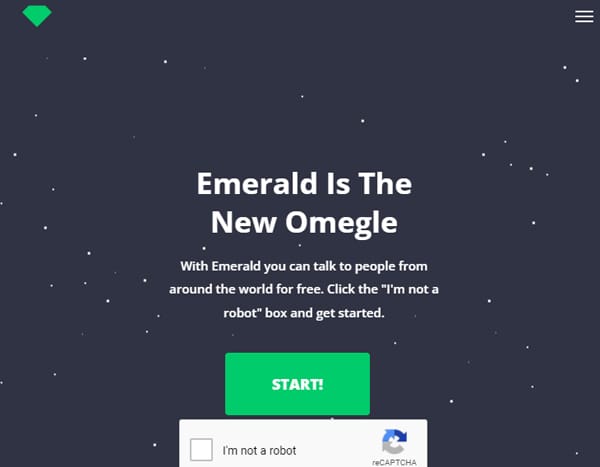 EmeraldChat says that it is the new Omegle, and we can agree to most of that. You must be more than 18 years old to access the website. Before you chat with someone, you have to prove that you are not a robot. It comes in handy because you will come across fewer bots across the website.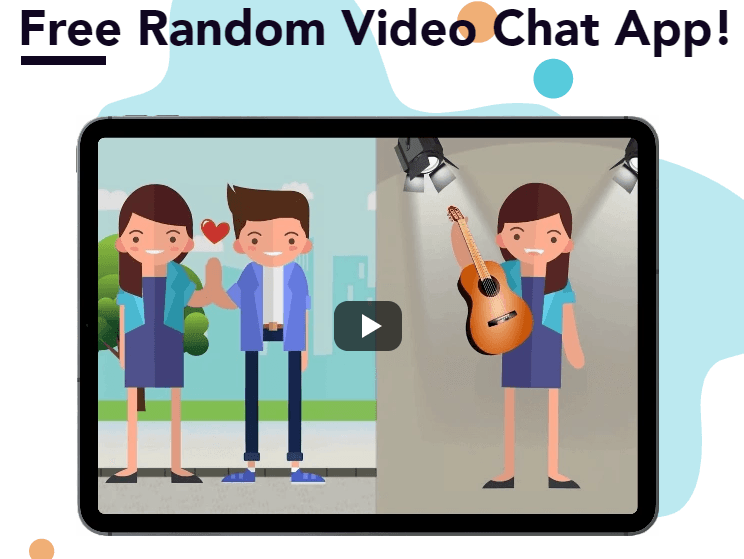 CamSurf is another straightforward stranger chatting website like Omegle. It does not want you to download or install anything, either. You can simply select your gender and start chatting. On the other side, it would be nice to have some additional filtering options while choosing the correspondents.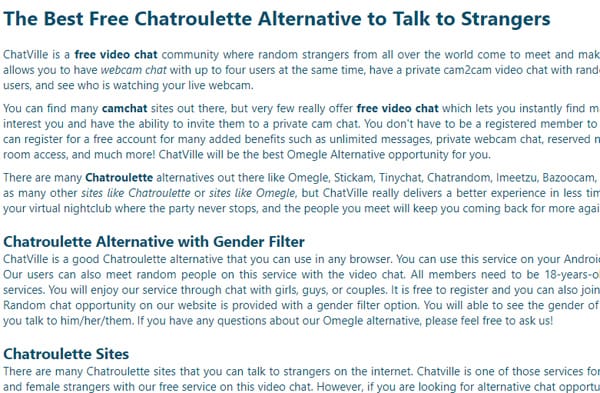 ChatVille is another name you can consider if you need an effective Omegle alternative on the web. If you're older than 18, you will not have any trouble accessing the website. Despite being simple, the website is home to many real users; therefore, an impressive experience is assured.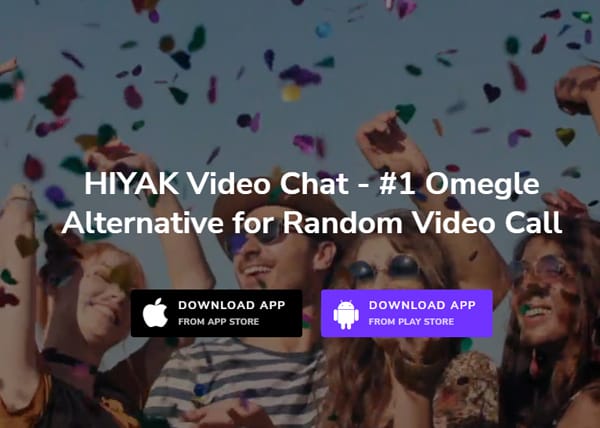 HIYAK is a video chat platform that you can count on. You can consider it an effective Omegle alternative for random video calls and friendships. The best part? You can have a native mobile experience by installing dedicated apps for iOS and Android.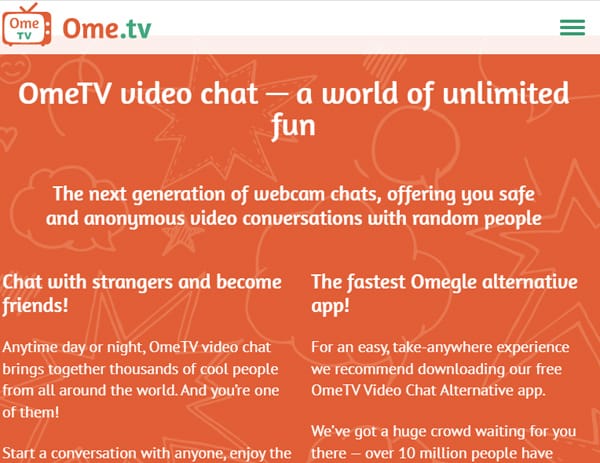 OmeTV is another Omegle alternative that you can check out today. You can open the website and select the country you are from and your gender. In a second, the website will connect you to a random person; it is as simple as that.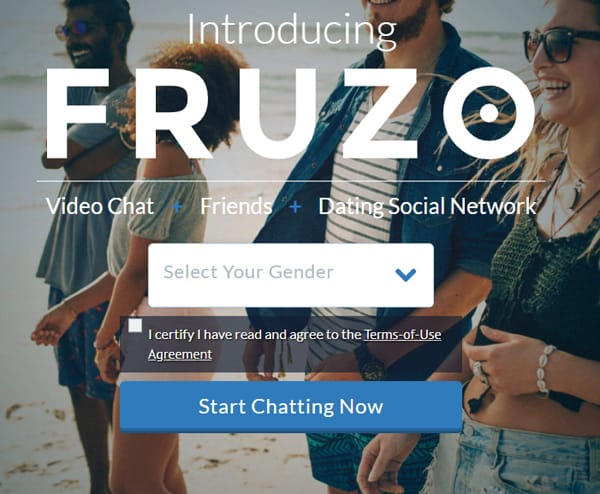 Fruzo is a little different from the other sites like Omegle that we have mentioned. It is a combined platform where you can find friends, date people, and engage in random video calls. Once again, the user interface is simple and you do not have to worry about any registration process.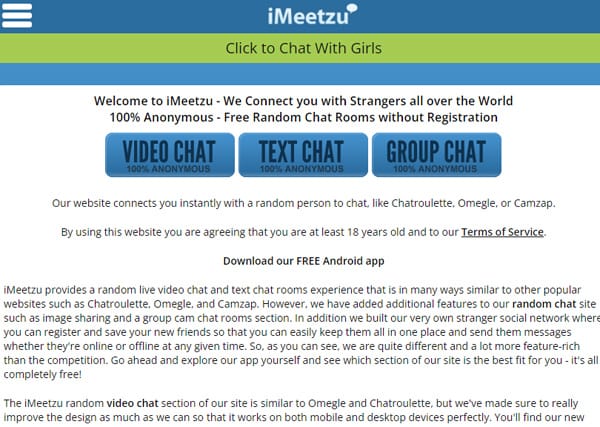 Unlike some other random chat websites, iMeetzu gives you a couple of options when you open the main website. You can choose between video chat, text chat and group chat. Based on your mood, you can choose any of these options and be done with it.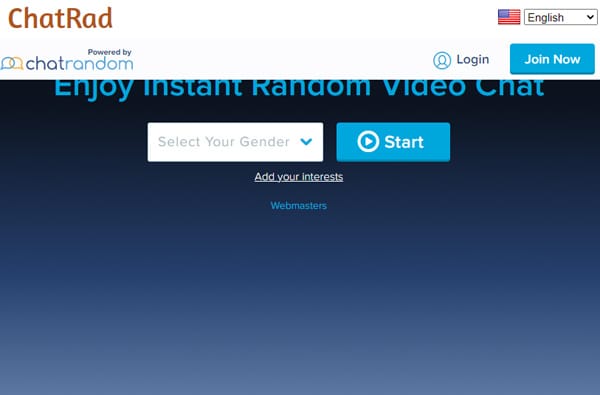 ChatRad is another place where you can find strangers who are willing to video-chat with you. You can get started with the website by selecting your gender. There are options to filter who you get to meet by picking the gender and country.
Other Omegle Alternatives You Can Check Out
Listed below are some of the most popular Omegle alternatives you can check out. Most of them have the core features such as one-to-one video calls, but you can expect other features as well. They are great choices if you are looking for the best random chatting experience on the web.
Frequently Asked Questions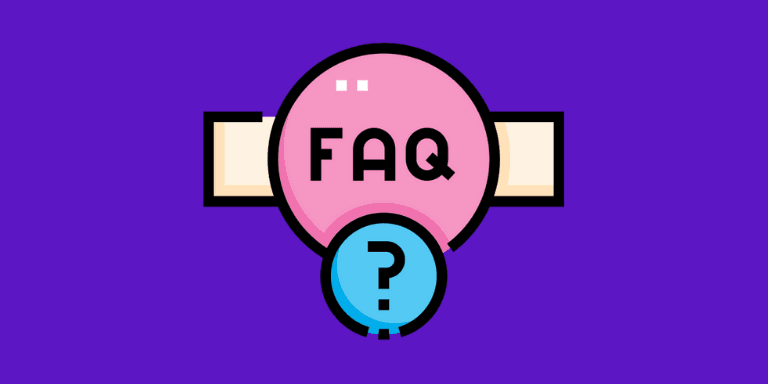 Is Omegle still safe?
There are two aspects to the answer to this question. On the one hand, Omegle is still a safe option from a privacy standpoint. The platform gets regular updates, making it a choice for most people. On the other hand, the number of people on the platform is increasing, as is the case of scams and bots. So, there is an increased risk.
Is Omegle kid-friendly?
We would not say that Omegle is kid-friendly. Due to obvious reasons, you can find adult content on the platform. While there is an option to filter nudity, the platform does not become kid-friendly as such. So, it is not recommended for toddlers or kids.
Is Omegle OK for teens?
Omegle is mostly okay for teens from the security point of view. However, it should be done with supervision on the top. As we said earlier, a variety of adult content is present on the platform, and it is debatable whether teens should be exposed to them.
What site is better than Omegle?
There are so many sites like Omegle, and many of them are better in one way or another. For instance, some websites are known for their additional features whereas other websites will have a better user-base, giving you an increased chance of meeting real place. We have listed some of the best Omegle alternatives in this article.
What age is allowed on Omegle?
You must be more than 18 years old to be a part of Omegle. It has been decided due to the nature of content that is available on the platform. Therefore, unless you are an adult, we do not recommend using Omegle for any purposes.
The Bottom Line
You should treat this article as a guide to meeting random people online instead of a list of alternatives to Omegle. The best part here is that you can meet a variety of people using these platforms. So, even if you do not find anything problematic on Omegle, you can explore some of these websites.